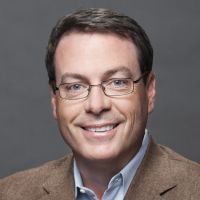 Chris Hodges
Senior Pastor
---
One of the privileges of getting older has been watching my children, and the children of family and friends, grow up and become adults. I'm always fascinated to see the through-line of the person God created them to emerge in infancy and grow into maturity. And I'm especially intrigued by the ways parents and caregivers try to pass on their faith in God to the next generation. Because no matter how devoted to Christ someone may be and how diligently they raise their children in the faith, their child's spiritual development is not entirely in their hands.
As a pastor and a father myself, I know there's a limit to how much I can ultimately influence the faith of my kids. They have to experience God firsthand for themselves and discover His love beyond what human love and conceptual understanding can reveal. When they struggle through life's challenges and wrestle with what it means to follow Jesus, it can be especially heartbreaking to watch them make painful choices. On the other hand, when they push through tough times and discover God's faithfulness for themselves, when they grow and mature into a faith that's uniquely theirs, it's incredibly inspiring.
Even more inspiring is when they become pastors and leaders who God uses to bless countless others as they share His love and use their gifts in His service. Such is the case with Jonathan Stockstill, whom I've known for most all of his life. Jonathan is the son of my pastor, Larry Stockstill, and I've loved seeing Jonathan grow from the little towheaded boy running through the pews after church into a passionate pastor, dynamic leader, and exuberant praise-and-worship music artist.
While some people might assume Jonathan's passion for ministry was inherited, I know that he continues to build on his dad's legacy and make it uniquely his own. This starts with the foundation of his faith, his relationship with Jesus Christ. Jonathan discovered that sometimes when you're raised in a devout Christian home, the pressure to conform to the expectations of others, especially those in the church, can be tremendous. It can be difficult to discern when you're trying to please your parents and others by accepting the customs of their faith versus when you're motivated by knowing and loving God at a deeper, more intimate level.
Jonathan quickly learned that you can't settle for an inherited set of beliefs if you want to make a difference in this world. You have to answer the fundamental questions at the heart of this book: Who is Jesus to me? What do I really believe about who He is? And what difference does it make in my life—right now and for eternity?
Jonathan knows these are the honest, gut-level questions every believer must answer for themselves in order to have an authentic, loving relationship with God and to live with passionate purpose in His service. Which is why Jon has written this book, to help you and me and everyone comes to terms with the real Jesus. To cut through what others say and what we see and hear in our daily lives and on social media.
As Jonathan points out, even during Christ's time on earth, many people offered different opinions about this carpenter's son from Nazareth claiming to be the Messiah, God's own Son. At one point Jesus even asked His disciples, "Who do people say the Son of Man is?" In reply, they listed some of the rumors floating around: "Some say John the Baptist; others say Elijah; and still others, Jeremiah or one of the prophets" (Matthew 16:13-14, NIV).
Now what's striking here, as Jonathan explores, is the number of assumptions people made about who Jesus was. Rather than listen to what He said and experience His teaching and healing for themselves, many people just identified Jesus by association, by hearsay, by speculation. "Yeah, I think he's that crazy guy John who runs around in the wilderness eating locusts and honey," some apparently said. "Or what about those prophets from hundreds of years ago, like Elijah or Jeremiah, the ones who did all those big dramatic supernatural spectacles," others must have chimed in.
With these assumptions on the lips of the public, Jesus then asked his disciples, "But what about you? Who do you say I am?" To which Simon Peter answered, "You are the Messiah, the Son of the living God" (Matthew 16:15-16, NIV). Jesus then blessed Peter for his faith because "this was not revealed to you by flesh and blood, but my Father in heaven" (Matthew 16:17, NIV). In other words, Peter didn't rely on earthly evidence—and he certainly witnessed plenty of miracles while accompanying his Master's ministry—but on supernatural revelation.
Through the power of the Holy Spirit, we can also encounter God's presence and the truth of who Jesus is for ourselves. We don't have to rely on hearsay, popular culture, or the church we went to as a child. We can get to know the Living God in a way that's personal, direct, and intimate. Jonathan knows the difference and provides a map to help you experience the power of relationship over religion, of a higher purpose over personal glory, of joyful
contentment over elusive happiness.
Whether you inherited a solid biblical foundation for your faith or you're still searching for the truth about God, The Real Jesus will open the door to a more intimate encounter with the Savior. With humor and honesty about his own struggles to overcome childhood "Biblianity," fresh insight on what God's Word actually reveals about Christ, and practical encouragement for deepening your relationship with the Lord, Jonathan challenges you to experience Jesus in
ways that require you to risk more of your heart.
If you're tired of settling for the images, ideas, and ideology of what others say about Jesus Christ, then it's time to decide for yourself. Ask Him to show you who He is, and you won't be disappointed. And don't be surprised if He uses this book to show you new glimpses of His character, power, and unconditional love for you. If you truly want to encounter the real Jesus, then turn the page!